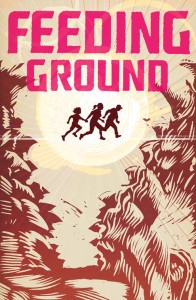 The Hollywood Reporter says that one of my all-time favourite graphic novels, 2011's Feeding Ground, has been optioned by veteran producer Edward R. Pressman. Alfonso Gomez-Rejon will direct a screenplay by Carlos Coto.
"Feeding Ground is an intense and terrifying thriller with a subtle but pointed commentary on immigration in modern America," said Pressman. "The graphic novel is so cinematic in nature — as soon as I read it, I knew we could make a film that would resonate with a wide audience."
I think "cinematic" is an understatement. After reading the first issue, I wrote that the "heat, desperation and simmering violence of the Busqueda family's world is evident" in every panel, and if it can be successfully translated to the big screen… wow. I'm very excited for the three friends who created the book – Swifty, Michael and Chris. For more on the deal, including background on the names involved (Pressman's done some fun stuff), read the whole article on the THR site. And if you haven't read Feeding Ground yet, the first issue is available for free on Graphicly.com, and the whole thing is on Amazon for less than $20.