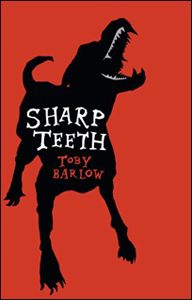 According to the BBC's Anglophenia blog, one of my favourite werewolf novels is coming to the big screen! Oscar-nominated writer Simon Beaufoy is currently in the process of writing a screenplay version of Toby Barlow's debut novel Sharp Teeth, which might then be directed by Danny Boyle. "If I write it well enough," says Beaufoy, "he'll direct it."
Boyle is an interesting choice of director for this story (which isn't exactly as life-affirming as his previous films), but I think he can pull it off. Sharp Teeth's feral werewolf packs would do very well being channeled through the grubby, manic energy of Trainspotting, and Boyle sure knows how to establish and maintain a constant "oh no, what next" sort of tension, which the book contains in abundance. There's a lot of crucial dialog shared non-verbally between werewolves, though, and I'm not sure how that will survive the transition to the screen. I hope we get a chance to find out!
If you haven't read the book yet, you're missing out– it's a true original and one of the weirdest things (in a good way) I've ever read. Amazon's got the hardcover for less than nine bucks, which is less than you'll pay to see the film.
Hat tip: ArcLight